School science labs are a great place for students to learn science using practical experiments. This helps them enhance their learning by complementing the theoretical aspects of science that are taught in classrooms. A well-designed science laboratory not only makes science experiments fun but also helps students achieve the desired academic results.
Here are a few tips to help you plan your new laboratory or make changes to your existing lab set up.
Location
The right location for the school science laboratory makes all the difference. Choose a location that gets sufficient natural light. This can help students with practical experiments, which require natural sunlight or where experiment outcomes are based on understanding the change in colours or appearance. Natural light can give a more accurate result as compared to artificial or coloured lab lighting.
The different chemicals and gases that are used in science experiments make it necessary for the science lab to be well ventilated. Sufficient supply of fresh air to the laboratory should be maintained at all times.
A well-lit and airy room will also have a positive impact on the general well-being of the student and staff in the lab.
Layout and Décor
An efficient lab must be flexible to accommodate the different disciplines of science. As the number of students taking up science subjects increases, it will become necessary for existing labs to accommodate the increased class numbers. Use of non-fixed and lightweight furniture can make it easy to move things around and create a flexible lab that can be altered as needed.
Colour and Lab Décor play an important part in making science labs approachable and exciting to students. Dull colours make labs boring for students. An environment that is fun, friendly and colourful, yet safe will make it an excellent learning space for curious young minds.
Students tend to get distracted easily and having interesting imagery on the wall or using the walls to project lessons will keep them engaged. Adapting your labs to make this possible is a step in the right direction.
Well-planned Storage Systems
School science labs require a variety of different apparatus and equipment. A well-planned storage system will make it easier to find the equipment required for different science experiments. More time can be dedicated to lessons and learning if the equipment is stored in an easy to access manner. Proper planning of storage systems can also reduce set up times and make it easier to plan for practical experiments throughout the year.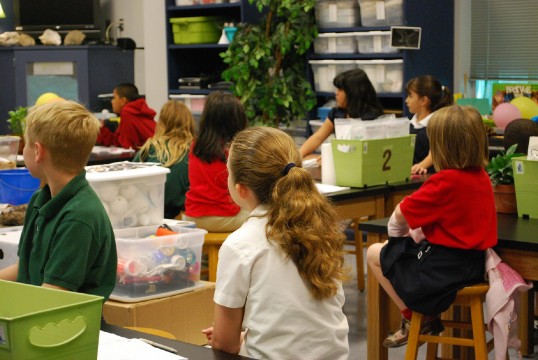 Communication
A good layout for a school science laboratory needs to take into account clear lines of communication between the teacher and students. Sharing of ideas and group discussions can be carried out effectively in a well-planned laboratory.
The lab should be structured in such a way that it makes it easy for students and teachers to move about. The teacher should also be able to see all students rather than the traditional classroom structure where the backbenchers are hidden away from the faculty's line of sight. This is even more critical because of the hazardous materials that the students have access to in a science lab.
Safety
Safety of students and faculty is of utmost importance in the laboratory.
Specific lab safety features need to be built in and faculty needs to be trained in the use of these features. Centralised on/off mechanisms for gas taps, electronics, and other hazardous experiments should be set up around the teacher's desk to make it easy to take emergency action where necessary.
The design of the science laboratories in schools can either enhance or impede effective science learning. At Edulab, we provide high-quality biology, physics, chemistry and other lab equipment. Contact our friendly team today and we will be happy to help you.